Firearms & Ammo
Prohibited Firearms and Ammunition
Muzzleloading Firearms
Black Powder or Substitutes
Tracer Bullets
Armor Piercing Bullets
Bird Shot or Any Shot Smaller Than #4 Buckshot
Any Ammunition Which Contains Steel as Any Component
Persons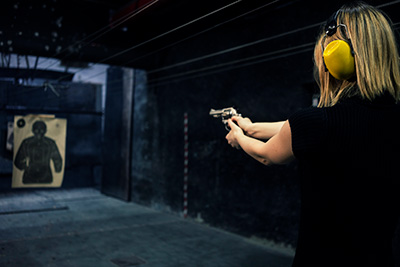 At Bel Air Gun Range, We Want Everyone's Experience At Our Range To Be A Pleasant One. We Want Everyone To Be Aware That Handling Firearms Is An Activity Reserved Only For Folks Who Are Not Prohibited Persons.
If You Cannot Purchase A Handgun Legally, Then You Cannot Fire A Handgun Legally.
Our Range Is Monitored By Local Law Enforcement, The ATF, And The FBI. Waivers Are Legal Documents, And When You Complete One, Indicating That You Are Not Prohibited From Handling Or Shooting Firearms, Or From Purchasing Or Handling Ammunition, It Is Taken Very Seriously By These Law Enforcement Agencies.
Please Do Not Shoot If You Are A Prohibited Person. It Will Only Result In More Legal Troubles For You.
If In Doubt, Consult An Attorney. For More Information, Go To This Link: http://www.atf.gov/firearms/how-to/identify-prohibited-persons.html
Bel Air Gun Range Is Committed To Making Firearms Safe, Fun, And Enjoyable For All Law Abiding Citizens.
For Those In Doubt,
Stop!
And Please Consult With A Legal Professional Before Handling Firearms Or Ammunition.
Identify Prohibited Persons
The Gun Control Act (GCA) makes it unlawful for certain categories of persons to ship, transport, receive, or possess firearms. 18 USC 922(g). Transfers of firearms to any such prohibited persons are also unlawful. 18 USC 922(d).
These categories include any person:
Under Indictment Or Information In Any Court For A Crime Punishable By Imprisonment For A Term Exceeding One Year.
Convicted Of A Crime Punishable By Imprisonment For A Term Exceeding One Year.
Who Is A Fugitive From Justice.
Who Is An Unlawful User Of Or Addicted To Any Controlled Substance.
Who Has Been Adjudicated As A Mental Defective Or Has Been Committed To Any Mental Institution.
Who Is An Illegal Alien.
Who Has Been Discharged From The Military Under Dishonorable Conditions.
Who Has Renounced His Or Her United States Citizenship.
Who Is Subject To A Court Order Restraining The Person From Harassing, Stalking, Or Threatening An Intimate Partner Or Child Of The Intimate Partner.
Who Has Been Convicted Of A Misdemeanor Crime Of Domestic Violence (Enacted By The Omnibus Consolidated Appropriations Act Of 1997, Pub. L. No. 104-208, Effective September 30, 1996). 18 Usc 922(G) And (N).