We Are Open To The Public! No Membership Required
Hours of Operation
Open 7 Days a Week: 11:00 am – 8:00 pm
Sunday: 11:00 am -7:00 pm
Customer friendly, family-oriented atmosphere, staff and service.
Full Service Retail Store
Gunsmithing & Cleaning Service
Range Fees: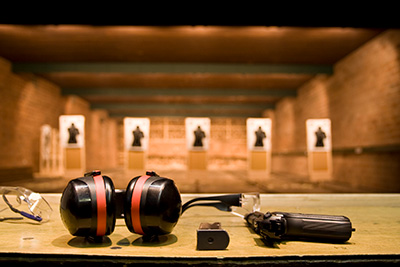 Basic Range Time Fee is $9.00 per half hour for each shooter, up to four shooters on a single lane.
Discounted Range Time Fee for active and retired Military/Law Enforcement is $8.00 per half hour for each shooter with Qualifying ID.
Minimum of ½ hour is charged to each shooter, charged in half hour increments.
Children UNDER the age of 18 shoot free!
Firearm Rentals
$7.50 per pistol rental, $7.50 for 12ga shotgun rental, $10.00 for Strike Industries Glock 17, and $15.00 for AR15/AK47/M4-22/Ruger 10/22.
Specials
Monday: FREE RENTALS ALL DAY
Tuesday: BUY 2 boxes of range ammunition, get ½ hour time FREE for the first shooter
Wednesday: COLLEGE NIGHT: free firearm rental with valid College ID Card
Thursday: LADIES NIGHT: free firearm rental and brief orientation for Ladies
Range Policies
Firearms
All ammunition must be checked in prior to use.
Age
Those under the age of 18 must be accompanied by a parent or legal guardian.
Range Officers
The Range Officer on duty is in direct charge of the range at all times.
Ammunition
Armor piercing, tracer, or incendiary ammunition is prohibited. Steel core, steel case, or green tip ammunition is prohibited. Black powder is prohibited. Shotgun shells MUST be slug or buckshot, No birdshot, target, or trap.
Holsters
Holsters may be used by law enforcement officers, carry permit holders, and commissioned security personnel only. If intending to use a holster during firing session MUST inform staff prior to entering the range.
Range Commands
Commence Firing: On This Command You May Step Forward And Continue To Fire.
1. Always Point The Muzzle Down Range At All Times.
2. Keep Fingers Off The Trigger And Outside The Trigger Guard Until Ready To Fire.
3. Keep The Action Open And Unloaded Until Ready To Fire And In Position On The Firing Line.
4. Be Completely Familiar With The Operation Of Your Firearm.
5. Be Sure That You Are Using The Correct Ammunition.
6. Loading Or Unloading Firearm Is Permitted Only In The Shooting Lane With Muzzle Pointed Down Range.
7. Always Wear Eye And Ear Protection.
8. Do Not Use Alcohol Or Drugs While Shooting.
9. Food or Beverage is not permitted on the firing line. Can have on the back table but please clean up after yourself.
10. Shoot Only At Authorized Targets.
11. Place Firearms On The Shooting Table, Pointed Down Range During A Ceasefire.
12. Do Not Handle Firearms Or Stand At The Firing Line When Others Are Down Range.
13. Only Authorized Firearms Are Permitted On The Range.
14. Obey All Range Commands Immediately.
15. No One Shall Go Forward Of The Firing Line.
16. Shooting A Rifle From Any Unstable Position (Hip Shooting) Is Prohibited.
17. When Loading, The Rifle Must Remain On The Table And Pointed At The Backstop Area. Moving The Rifle Off The Bench Rest To Reload Is Prohibited.
18. Only One Shooter Per Position, Coaching Is Permitted.
19. You May Not Shoot If You Have Been Drinking Alcohol Or Have Been Using Other Substances, Including Prescription Drugs, Within The Last 8 Hours.
20. When Leaving The Firing Line At Any Time, Unload The Firearm, Lock The Action Open And Place It On The Table With The Muzzle Pointing Down Range.
21. When You Are Finished Shooting, All Firearms Must Be Unloaded And Placed In A Secure Carrying Case With The Action Open Before Leaving The Shooting Position.
22. If The Firearm Malfunctions, Becomes Jammed, Or If You Require Assistance Of Any Type From The Range Office, Place The Firearm On The Table With The Muzzle Pointing Down Range, Step Back From Your Shooting Position And Contact The Range Officer. (At No Time Should You Remove A Loaded Or Jammed Firearm From The Firing Line.)
23. When You Have A Misfire (Dud), Keep The Muzzle Pointed Down Range For 60 Seconds. Contact The Range Officer.
24. Always Keep Muzzle Pointed Down Range, Never Point Muzzle Towards Ceiling Or Floor.
25. Wash Your Hands After Shooting.
26. Full Autos Are Permitted; All Shooters Must Be Certified By The Facility Prior To Use.
27. When Range Is At Full Capacity, Members Will Be Limited To One Hour Of Shooting Time Per Session.